Collaboration, Connection & Community Key to Modern Office Buildings
IRVINE, CA – – With collaboration, connection and community in mind, EMMES Realty Services of California LLC has begun a multi-million dollar renovation on a pair of office buildings in Irvine.
Inspired by the architectural Art Deco movement, Centerview — purchased by EMMES in April 2017 — will welcome visitors and tenants with a design that is an artful mix of classic and contemporary. Embracing the original architecture's stone and brass accents, the lobby and common area renovations thoughtfully bridge classic and modern with creative lighting, textures, and a neutral palette, keeping the focus on the simplicity and sophistication of the design. Updated materials include white marble with accents of deep bronze and wood all working in harmony to create a relaxed, inviting aesthetic that is both fresh and timeless.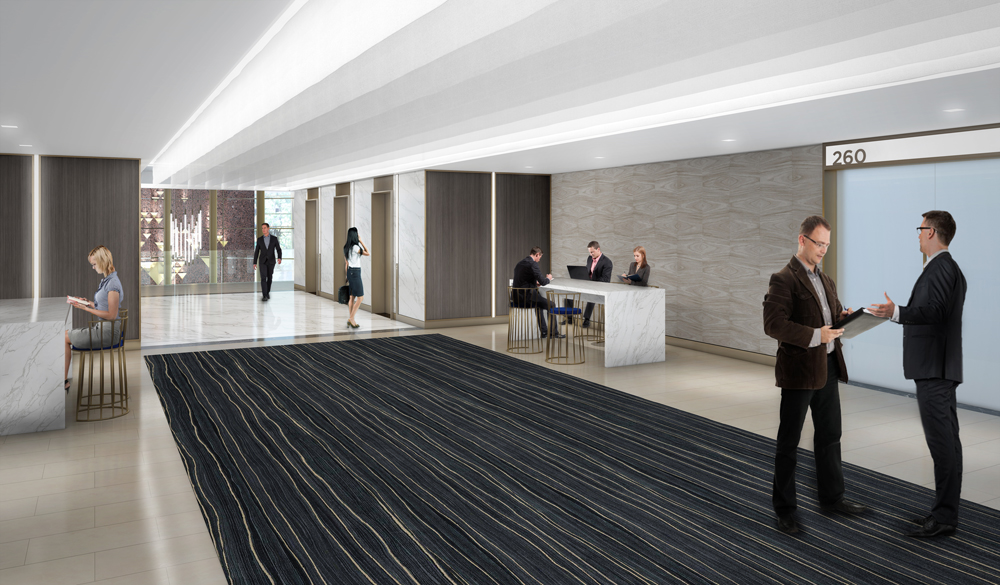 Centerview is located in the Irvine Concourse, one of the most prestigious business complexes in the heart of Orange County's leading Airport Area submarket. The Class A office campus includes two buildings in the Irvine Concourse, plus an El Torito Grill and a McCormick & Schmick's restaurant, totaling approximately 625,000 square feet. Centerview also has a dedicated 1,934-stall parking facility.
While the original architecture of the Irvine Concourse embraced a formal planning approach around large central water features and created a separation between the building work spaces, the new Centerview design creates an environment to encourage people to come out of their offices and connect with one another at common interior and outdoor areas. New site furnishings, lighting, art and landscape elements will bring connection to this office community for both professional and recreational use.
"Our goal is to enhance the whole life-work experience," said Ashley Proctor, Vice President, Operations, EMMES Realty Services of California LLC. "The new amenities will engage both tenants and visitors alike."
Improvements to the property include modernizing building systems such as elevators and HVAC, renovating common areas and adding additional on-site amenities to re-establish Centerview as a premier office location in Orange County.
"The workplace is no longer a place meant only for work. It can be a thriving, vibrant community that supports its many occupants and their varying workstyles: social and reflective, focused and universal, and intentional and organic," said Lisa Kelly, managing principal, IA Interior Architects.
_
Media Contact:
Neal Leavitt
Leavitt Communications
(760) 639-2900
neal@leavcom.com