EMMES Realty Services of California LLC Begins Multi-million Dollar Renovation of 701 B Street
SAN DIEGO, CA – – EMMES Realty Services of California LLC has begun a multi-million dollar renovation of the 7th Avenue plaza and atrium lobby of 701 B Street in downtown San Diego.
Following a successful renovation of the B Street entrance of the building, the most dramatic change to the lobby will be the removal of the angled space frame glass wall, which currently inhibits views into the lobby due to the dark reflective glass. A new, straight vertical glass wall will be constructed, nearly doubling the size of the outdoor amenity plaza along 7th Avenue. This will create a spacious outdoor plaza "Urban Oasis".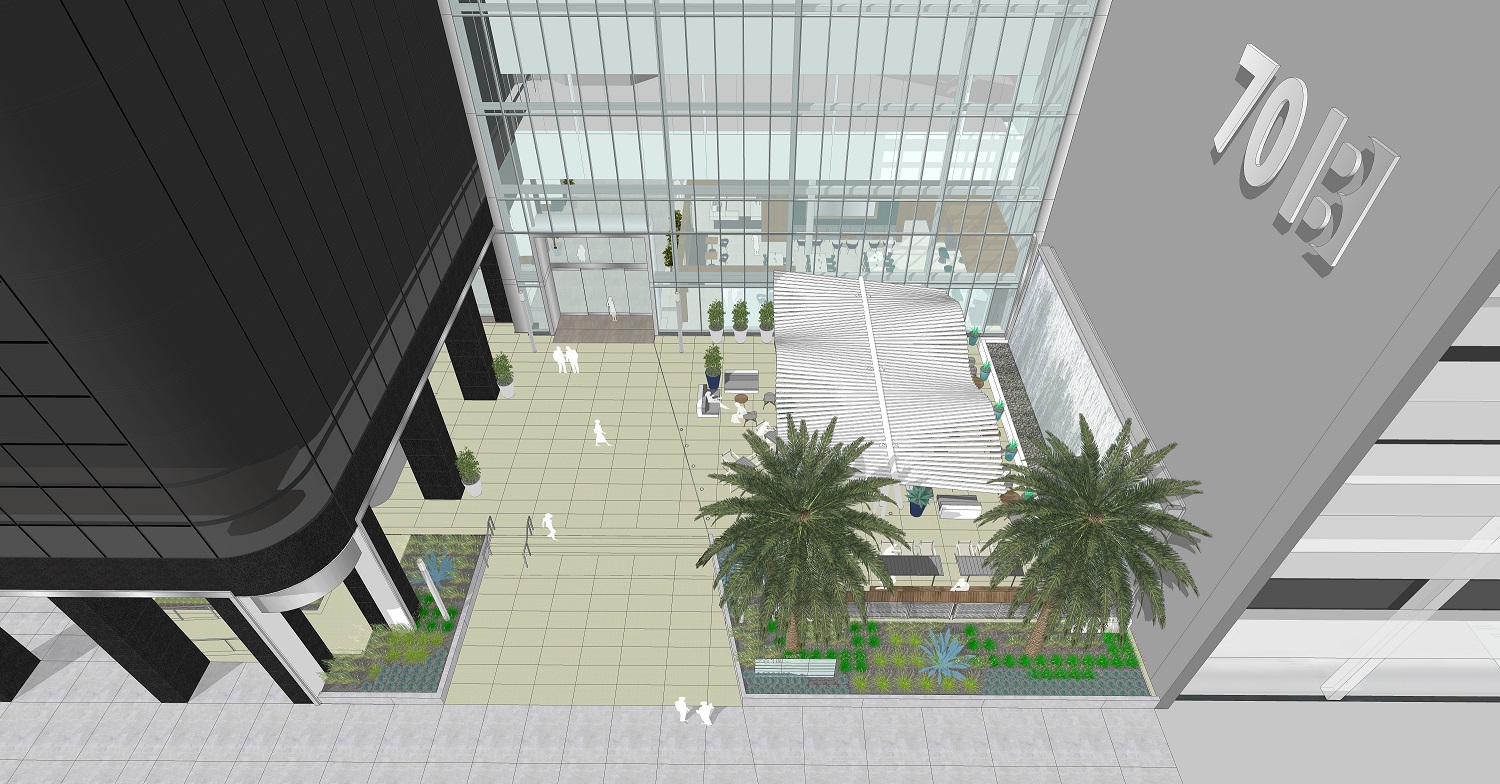 When completed, the new lobby will also greet tenants and guests with a spectacular, cascading water wall and provide spaces to gather formally and informally within the completely reimagined interior lobby, café space, or in the outdoor "Urban Oasis," which will offer a space unlike anything else downtown.
"EMMES's goal is to re-establish 701B as the 'place to be' downtown – a destination." said Mark Kuske, Asset Manager, EMMES Realty Services of California LLC. "We wanted to create a design that would be appealing to a wide range of tenants, while also providing another attractive asset to the whole downtown experience."
According to Kevin Leslie, LPA project designer, "Lobbies of the past were merely transient spaces that no one really spent any time in. They offered no amenities and were simply not comfortable places to want to spend time. We see lobbies today as an extension of the office, providing places to 'get away' and have meetings outside of the normal working environment. The new 701B lobby will be activated throughout the workday and evening hours, where typical office lobbies vacate after working hours."
_
Media Contact:
Neal Leavitt
Leavitt Communications
(760) 639-2900
neal@leavcom.com